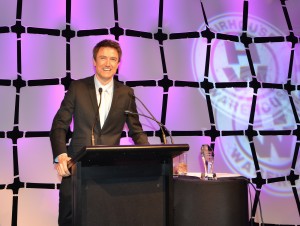 I just got back from a fantastic week with Hairhouse Warehouse in Noosa – my fourth year in a row hosting their incredible conference. Lots of themed nights made it a really great event to host and perform at.
This year was HHWH's 20th year anniversary so congratulations to the whole team once again. Sunday night I hosted a 'this is your life' review for Tony and Joseph, the company co-founders. From humble beginnings to now a franchise with over 140 stores, this is one incredible story that took 45 minutes to get through. But it was enjoyed by every franchisee, an even more so by Tony and Joseph, who had to drink scotch every time the audience applauded. And they liked to clap!
Looking forward to hosting activities again for HHWH in 2013. An incredible company with a wonderfully diverse range of people. Always a great laugh to be had!